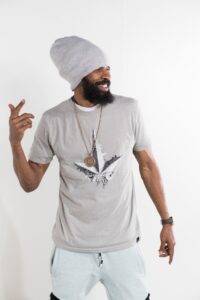 Born Carlton Grant, Spragga Benz hails from Jamaica and has been an icon of the local dancehall culture since the early '90s. He made his first appearance onto the scene as an assistant DJ for Ricky Villa and the La Benz Sound System. It didn't take long before he had the chance to put some of his tunes on tracks like, "Love Mi Gun" and the lascivious "Jack It Up" which became instant underground classics. The re-release of the latter on a wider level, plus other tracks such as "Could A Deal" and "Girls Hooray" boosted his profile even further as Spragga Benz set out to become one of the hottest names within the dancehall scene of the decade.
As leader of the Redsquare Rebelnation, Spragga uses his influence to provide a platform to young artists as they pave their way throughout the industry by providing them with mentoring, comradery and opportunities. He presently works closely with 12 young artists, showing them the ropes.
Also, in honour of the untimely death of his first born son, Carlton "Carlyle" Grant Jr., Spragga started a second organization, "The Carlyle Foundation", a program which currently provides scholarships and computers to excelling Jamaican students.
The 21st century started out with a bang, as Spragga set out to debut as an actor, becoming involved in influential productions such as, "Brooklyn Babylon" and gangster story, "Shottas". The film "Shottas", co-starring Kymani Marley, Paul Campbell, and Louie Rankin propelled Spragga Benz's career to new heights as he expanded his fan base, not only to music lovers but to movie buffs as well.
To quote Stephen Marley, "Spragga Benz is revolutionising the game." Enough said!