Nicole plus King Tides Equals Beach Cleanup
by Steven Holland
Massive Beach cleanup on Hollywood Beach continues days after Hurricane Nicole
Everything is back to normal since cleanup efforts on Hollywood beach have begun after Hurricane Nicole hit Florida's east coast.
This past Friday morning, bulldozers were on the beach getting sand back onto the beach and leveling out the sand, so both visitors and residents could once again enjoy our tropical weather.
The Hollywood Broadwalk (not 'Boardwalk'!) was teeming as usual with people vacationing and engaging in their everyday routines one day after Nicole passed through Florida's east coast.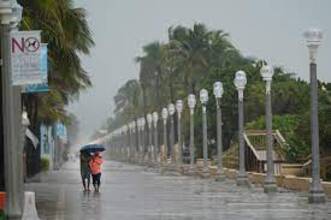 Just a few days ago, the Broadwalk was underwater, but the city quickly fixed up the beach for all to enjoy!